SPORTS PASS IS YOUR TICKET TO FUN!
Attend every home game, show your BU school spirit, and don't miss a minute of BU Terrier action – all you need is your Terrier Card.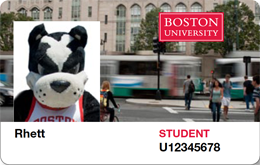 Your Sports Pass is conveniently loaded onto your Terrier Card (BU ID) for free entry to all BU athletic events.
Entry into all hockey games and all basketball games requires a ticket along with your Sports Pass. Tickets can be picked up at no charge at the Agganis Arena Ticket Office or online through Account Manager.  Need more info on how to claim?  Click here!
Follow us: