Agganis Arena Celebrates 15 Years!
BOSTON, MA (February 3, 2020) – Agganis Arena, Boston's premier midsize sports and entertainment venue announces a celebration to commemorate its 15th anniversary. Agganis Arena serves as home to the nationally-recognized Terrier men's ice hockey team and has welcomed millions of guests for sporting events, concerts, and family shows since its opening in January 2005.
The celebration will take place on February 15th as Boston University Men's Hockey takes on UNH in the 15th home game of the regular season.  The festivities will include various historical flashbacks of Agganis Arena and fans will be invited to stay after the game and paint the Agganis Arena ice. Opportunities for guests to share memories and experiences from Agganis Arena will be included via social media with a "15 Days of Giveaways" campaign where a winner will be selected each day. For information on these opportunities, please see below.
Key Milestones
Agganis Arena was recently recognized as the 75th most visited arena in the country, 112th worldwide, and 3rd in New England in Pollstar Magazine's 2019 year end issue for concert ticket sales in venues of all size.  Thanks to our valued relationships with Feld Entertainment, Live Nation, Cirque du Soleil, AEG Worldwide/The Bowery Presents, Cardenas Marketing Network, and Ticketmaster, Agganis Arena has distributed over 3.3 million tickets since opening.
Agganis' success is based heavily on returning artists including Romeo Santos who holds the record for 9 performances at Agganis (7 solo plus 2 with Aventura).   The "5 Timers Club" includes Marc Anthony, Jeff Dunham, and Pentatonix.    Andre Rieu and Jack White (solo, the White Stripes, and the Raconteurs) have played the arena 4 times.  Alicia Keys, Bob Dylan, Dropkick Murphys, Hillsong United, and Marco Antonio Solis have performed 3 shows at Agganis.   Finally, over 20 acts have played Agganis more than once since its opening including Lizzo, J Balvin, Vampire Weekend, and the Cure.
Keys to Success
Fundamental to Agganis Arena's continued success is a singular focus on continual improvement and an unwavering commitment to delivering best-in-class service and facilities.  Flexibility in right-sizing the venue capacity to meet production requirements has been invaluable – 5,000 to 6,000 for most concerts with the ability expand to 8,000 in the round.  On-site truck and production parking supports efficient load-in and load-out.  The summer of 2018 brought enhanced production equipment, with the installation of a high definition center hung halo surrounding the main video board and upgraded high definition ribbon boards flanking the east and west sides of the arena. Improved LED lighting was installed along with new HVAC controls in an effort to greatly reduce energy output.  The lighting project is estimated to decrease arena energy use by 885,000 kilowatt-hours annually, while the HVAC system upgrades are projected to reduce carbon dioxide usage by almost 5 million pounds annually. Agganis Arena is on the forefront of event waste recycling, further evidence of the focus on sustainability.  Through the recycling program, 458 cubic yards of landfill space, 297 adult trees, and 33,662 kilowatts of energy were saved from July of 2018 to June of 2019. During that same period, the carbon footprint was reduced by 31 metric tons of carbon equivalent.
Another cornerstone to success is outstanding guest service. Agganis Arena strives to provide a top-notch guest experience from start to finish, with increased informational efforts prior to events to exceptional event day guest assistance. Frequent menu updates by our concessionaire Delaware North ensure concession offerings are well-received and on trend per guest preferences.
2020 Lineup to Date
BU Men's hockey has five regular season home games remaining with fan favorite promotions and opponents throughout.   On February 7th, BU welcomes Merrimack and will host Mike Eruzione for a signing of his new book The Making of a Miracle.  February 15th will be Agganis' 15th Anniversary Celebration as the Terriers take on UNH.   On February 22nd, the anniversary of the Miracle on Ice will be celebrated with giveaway BUSA pins for fans as BU hosts UConn.   Cross town rival BC comes in on Leap Day February 29th.   The regular season will end on March 7th as BU welcomes Northeastern and recognizes its Senior Class in a special 4pm family friendly game time.
Following the hockey season, Agganis will enter a historic run of consecutive events including the return of the NCAA Women's Frozen Four on March 20th and 22nd and the debut of Jurassic World Live for 15 performances starting on March 27th. On April 21st , Agganis welcomes NF back adding him to the list of returning artists. Rounding out the announced 2020 schedule is the longest running family show in Agganis history Sesame Street Live: Let's Party on April 24th through 26th as well as Monsta X on June 12th and Lauren Daigle on June 26th.
Paint the Agganis Arena Ice  – February 15th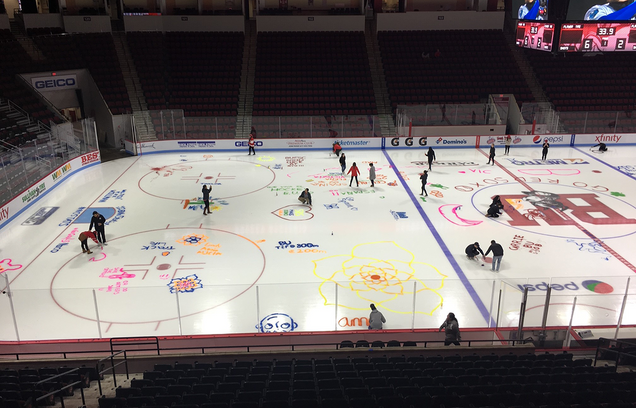 All guests attending the BU Men's Hockey vs. UNH game at 7pm on February 15th are invited to stay after the game and paint the Agganis Arena Ice. For tickets to the game, click here.  To RSVP for the Ice Painting Event, click here.
15 Days of Giveaways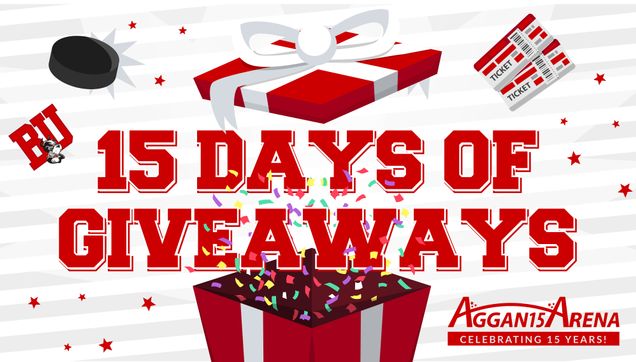 Beginning Tuesday February 4th, Agganis Arena will be running the 15 Days of Giveaways campaign.  Help us celebrate Agganis Arena's 15th Anniversary by sharing your favorite Agganis Arena memory on social media.  Follow us on Twitter and tweet us your favorite memory to be entered to win one of 15 amazing prizes.  A winner will be chosen each day from all cumulative entries.